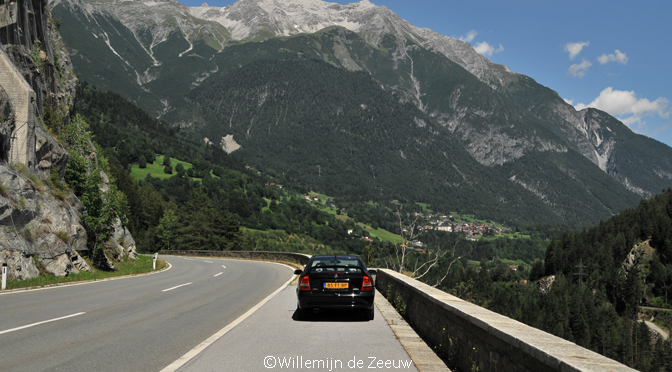 Car and motorcycle in Austria
Driving on Austrian roads is a great pleasure. They are well kept, well signposted and generally not too crowded. Compared to train or bus, own means of transport gives you more freedom (np. the possibility of stopping to admire the alpine views). Its disadvantage is the fact, that it isolates from contact with locals and other tourists. Getting around by car is often inconvenient in the city center. It is better then to park your car and use public transport.
Highways (highways) on national maps are marked with the letter "A" or the European number "E" (both numbers are given in the guide). To use them, the appropriate fee must be paid (tooth. next). They are usually duplicated by highways (Expressways or federal roads). Main roads are always straight enough, as far as the terrain allows, sometimes they lead through tunnels. In the mountains, it is worth choosing minor roads, which meander over the passes. Driving them takes maybe a little more time and requires some extra road, but you can enjoy beautiful views while driving. Some of the less important pass roads are impassable from November to May. In winter, wheel chains are always useful (in some sections they are even necessary).
Traffic regulations
The minimum driving age is 18 lat (this also applies to the Austrians, and foreigners). Just like in other countries of the continent, Austrians drive on the right side of the road. The maximum speed in built-up areas is 50 km / h, 130 km / h. on the highway and 100 km / h. on other roads. Cars with a trailer or trucks have a limited speed on the highway to 100 km / h, and on some of the more winding alpine roads, they may be banned from driving. Seat belts must be fastened, if fitted to the car, and children up to years 12 (or less than 150 cm) they should have a special chair or protection.
Motorcyclists and their passengers are required to wear helmets and must drive with the lights on during the day. They should also have a first aid kit, though, experience shows, the police do not bother to enforce this rule. A first aid kit is obligatory for car drivers, as well as the warning triangle.
The Austrian police have the power to impose fines for various traffic offenses. You can pay the ticket on the spot (you should ask for a receipt) or up to two weeks. Driving under the influence of alcohol (more than 0.5 ‰ of alcohol content in the blood) It ends with a high fine to be paid on the spot and deprivation of the driving license.
At unmarked intersections, there is the right-of-way for cars coming from the right. Buses have priority on mountain roads, however, when meeting another car, that vehicle has priority, who has more difficulty stopping (generally going downhill). Use a low gear to travel down steep slopes, preferably on the same, on which one would ride.
Road signs are subject to general international rules. A crossed white tire on a blue circular background means that the chains must be fitted. The umleitung is a tour in German, although in Austria you can also come across the term Ausweiche. The inscription Maut on maps or signs signals a toll road in front of the toll road.
Trams are a very popular means of communication in Austrian cities, so be careful when driving your car. The tram always has the right of way and usually does not give way, even the most passionate drivers. You must stop behind the tram at the stop. You should also be prepared for this, that even with a green light for cars, you will have to give way to pedestrians before turning right or left.
Tolls
A general toll for using the main national roads has been in force for a long time, but keeping to minor roads, you do not have to pay it. Payment for a vignette valid for the calendar year, placed in a visible place, totals 72,60 € for cars (below 3,5 tony) i 29,10 € for motorcycles. Luckily, unlike neighboring Switzerland, in Austria, short-term payments may be made. A 10-day vignette costs money 7,60/4,40 € for cars / motorbikes, and monthly respectively 21,80/10,90 €. Both become valid on the day they are issued and can be purchased through motor unions, at border points, and in Austria itself, also at gas stations and tobacco shops.
An additional fee has to be paid for the use of certain mountain roads and tunnels. This guide informs you about toll roads and alpine discounts in the right places, but it is not a complete list. Please check with your local tourist information offices for details.